The Petitcodiac Sportsman's Club is an organization made up of men and women devoted to the great outdoors.
Each month, with the exception for July & August, the club holds a general meeting. Many meetings include a guest speaker in attendance. Past speakers have included the provincial Deer Biologist, the Chief Firearms Officer, authors of books and many other interesting speakers.
Everyone is welcome to attend so come on out and enjoy an atmosphere of cooperation and friendliness and learn more about what one of New Brunswick's finest outdoor gun club has to offer. Check out the PSC Calendar of events for regular club and range updates.
---
PSC TURKEY SHOOT (MEMBERS ONLY)
THE PETITCODIAC SPORTSMAN'S CLUB IS HOLDING A TURKEY SHOOT", SATURDAY, DEC. 9TH.
FIRST SQUAD AT 9:00 AM
25 SPORTING TRAP (UPFRONT & LOW)
25 SIXTEEN YARD REGULAR TRAP TARGETS
25 HANDICAP (20 YARDS) TARGETS
COST: $25.00 WHICH INCLUDES THE 75 TARGETS
TOP 5 SHOOTERS RECEIVE A FROZEN TURKEY
FOR MORE INFO: CONTACT RON WHITEHEAD
BRING A LUNCH – COFFEE, TEA AND DOUGHNUTS SUPPLIED WITH YOUR REGISTRATION FEE
---
PSC CF 150 Yard Shoot
Nov. 26, 2017 CF 150 Yard Fun Shoot
We are quickly heading to the end of the year and the Christmas shoots are coming up. However, for a last "hurrah" in Petitcodiac, we had a Centerfire fun shoot. The targets were set up at the end of the range at the 150 yard mark. We knew this would be a different shoot but did not think that 50 additional yards could make much of a difference in the results . . Wrong !! The "little mistakes" we make at 100 yds were magnified so that hits that would have touched the 10 ring were now definitely out. Humbling to say the least and the scores reflect this. I imagine if we shot this distance more often, we would become better shooters at 100yds.
The conditions were ideal. It was not too cold to reduce the enjoyment of shooting although a good fire in the stove was required. There was almost no wind at all and the single wind flag (it was a "fun shoot" after-all) that was out there hardly moved except during the last relay. It remained overcast for the whole shoot so our sight pictures remained constant and without mirage.
A big welcome to Jim who came to watch. He was not feeling well and had to go to the hospital later that day. We hope all is well with Jim. Dan G. was the match director and head scorer. John McC. and Bert deV. shared the score verification duties. ROs were Dan G., John McC. and Darryl K. Targets were set and changed by Logan G., Brian P., John McC. and Bert deV. Dan G. brought the Timbits.
Thanks, everyone, for your help today.
CF BR 150YD Shoot Pictures and Score

---
PSC .22 RF BR Candy Shoot
Nov. 12, 2017 Candy Shoot
Reported by: John McCluskey pictures by Volker T. and John (Thanks guys).
Hello everyone in N.B. Benchrest Blog land.
To start with we had a beautiful, cool, fall day with very little wind and very little sun. 11 die-hard shooters were in attendance to drive the
candies off the range. This year the pink peppermints and ½" diameter gums seemed extremely easy to hit (except for one shooter claiming bad ammo..sure it was) causing the target maker to start re-thinking the candy sizes for next year. ☺ Also this year the Tic Tac candies were replaced as most hard to hit by the new small black bean targets.
The match director and scorer was John McC. Dan G, George M and John McC. were the R.O.'S and target changers. Volker T brought some yummy cookies that soon disappeared. Everyone had a great time! Thanks to all for another successful PSC Candy Shoot!
.22 Rifle Benchrest Candy Shoot Pictures and Score

---
PSC CF BR Shoot
October 29, 2017 Flybuster Shoot

---
2017 PSC CF BR Championship Shoot
What a gorgeous day in New Brunswick. We are so lucky to have a fall like this with cool mornings (yes it was a bit frosty, near 0 degrees with frost definitely on the grass and on the windshields this morning and fog in low-lying areas), and warm afternoons. The temperatures rose to somewhere around 17C this afternoon. The sky was a light cool blue with no clouds in sight. The wind in Petitcodiac, usually quite a challenge, were benign and mostly from right to left but with lots of periods of relative quiet. If you waited for your condition to return you were rewarded with a good shot. Fifteen minutes were allowed per relay and this was lots of time to complete 10 counting shots.
The Match Director today was Volker T. who was the head scorer while Dan G. provided the verification of scores and stats. Targets were set and changed by Tony L., John McC., Brian P., Cecil H., Dan G., Darryl K. and Bert deV. The Range Officers for the match were Darryl K. and Bert deV. John C. provided for the wonderful lunch between the second and the last relays and Shelly C. brought the tasty treats for dessert.
Thank you to everyone who made this match possible and such an enjoyable event. We also want to extend a big welcome to Matt H. (and his wife) who came to shoot with us for the first time this year.
Centerfire Benchrest Championship Shooters – Oct. 1, 2017

After the match was over and the scores were tabulated, everyone went to the club-house for the awards presentations. First a plaque was given to the Petitcodiac Centerfire Team that won the Terry McNeill First Annual Centerfire Match. Then a presentation of a plaque to Cecil H. who had the highest match score of the year in the regular season – 300/20X. John McC. was presented with a plaque for the highest single target score during the regular shooting season – 100/9X.
Then came the trophies, plaques and medals for the top 5 shooters in the championship match. Bert deV. won first with 300/25X; Dan G. came second with 300/22X; Cecil H. placed third with a 300/21X; Volker came in fourth with 300/20X and John McC. came in fifth with 300/14X. Yes, that's right, 5 shooters placed with perfect targets – that pretty good shooting folks! After these awards were presented, all shooters participated in a draw for prizes organized by John C. (Thanks so much for your work John). Everyone went home a winner! What a great shoot and what a fine day with friends.
Centerfire Benchrest Championship Shoot Results and Winners

---
2017 Moose Season Success
Brittney Jones with the nice bull she harvested in Zone 24 in this year's moose hunt.
Brittney is a member of the Petitcodiac Sportsman's Club.
Congratulations to Brittney!
---
PSC Crests Available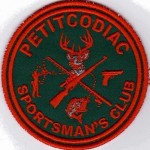 The PSC has obtained the crests as shown – these crests will be available at General Meetings on a first come, first serve basis. The cost of a crest has been established at $5.00 which is only a few cents more than what we have paid for them.
Plan on attending our next General Meeting. Bring a friend. Meetings are held every 3rd Thursday of the month (excluding July & August) at 7:30pm at the club house. If you would like to receive meeting updates, guest speaker notices and other club event information, send us an email to info@sportsmanclub.ca and request to be added to our monthly emails.
---
PSC IPSC Match
See more pictures of previous PSC shooting matches…
---