2014 December 06 – Christmas Fun Shoot
2014 November 23 – Centrefire Benchrest Fly Shoot
2014 November 09 – .22 RF Benchrest Sporter Shoot
2014 October 26 – Centrefire Benchrest Championship Shoot
2014 October 11 – Team Shoot
2014 September 28 – Centrefire Benchrest Shoot
2014 September 14 – .22 Benchrest Championship Shoot
2014 September 07 – Sharps and Levers Shoot
2014 September 07 – Military Shoot
2014 August 18 – .22LR Benchrest Shoot
2014 August 03 – Centrefire Benchrest Shoot
2014 July 27 – Sharps, Levers and Other Shoots
2014 July 27 – Military Shoot
2014 June 22 – .22 RF Benchrest Shoot
2014 June 15 – Sharps, Levers and Other Shoots
2014 June 15 – Military Rifle Shoot
2014 June 08 – Centerfire Benchrest Shoot
2014 May 25 – .22LR Benchrest Shoot
2014 May 18 – Sharps, Levers and Other Rifle Shoot Winners
2014 May 18 – Military Rifle Shoot Winners
2014 May 11 – Benchrest Shoot
2014 April 27 – .22 Benchrest Match
2014 April 13 – Centerfire Benchrest Match
2014 March 16 – Centerfire Benchrest Match
2014 March 02 – Long Rifle Benchrest Match
2014 February 02 – .22 Rimfire Benchrest Shoot
After the end of 2″ snowfall, and a hint of some rain, the day was not a bad one weather-wise. The temperature climbed to around 2degrees and wind was very light. Although, several shooters were convinced there were some mysterious hidden swirls of wind activity causing some erratic behaviour with some of their best shots. Not sure if this was the case, but the writer had several shots that went in totally different places than planned! But, it was a good shoot with 15 shooters trying their best.
Ron found some spare time to make it to our shoot, and Welcome to a new shooter John McC. We look forward to new participants and making new friends. Thanks to Tony,Tom, Darryl, Dan, Brian, Ron for helping with the usual varied tasks of running the shoot ranging from getting the stoves going to handling the targets, RO'g. etc. And of course to Barb for providing the usual delicious sweets and Dan for the Timbits. Photographers for our shoot were Barb and Darryl; Thanks.
Following is the scoresheet.
Cheers,
Volker M. Topf,
Amat Victoria Curam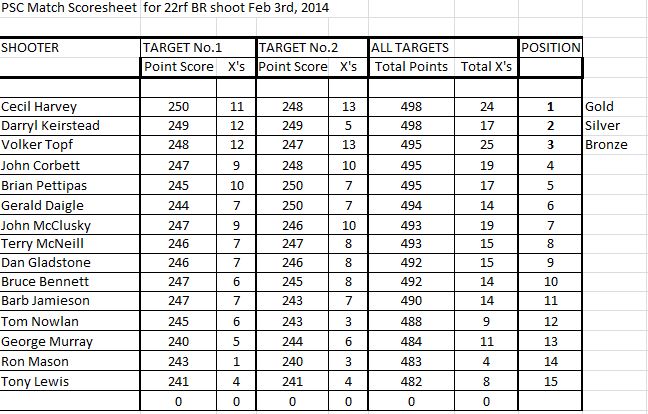 2014 January 19 – Centerfire Benchrest Match
2014 January 05 – .22 Rimfire Benchrest Shoot
SHOOTER

TARGET No.1

TARGET No.2

ALL TARGETS

POS

Point Score

X's

Point Score

X's

Total Points

Total X's

Mathew McAllister

250

11

250

12

500

23

1

Gold

Volker M. Topf

250

9

250

14

500

23

2

Silver

Brian Petitpas

250

11

250

9

500

20

3

Bronze

Jeff Marshall

250

5

250

4

500

9

4

Cecil Harvey

249

14

250

12

499

26

5

Dan Gladstone

249

10

250

13

499

23

6

Tom Nowlan

250

11

249

10

499

21

7

Darryl Keirstead

250

7

249

9

499

16

8

Bruce Bennett

249

9

249

9

498

18

9

John Corbett

248

11

247

7

495

18

10

Barb Jamieson

244

8

248

7

492

15

11

George Murray

243

5

247

7

490

12

12

Terry McNeill

234

5

242

4

476

9

13

Don Murrin

238

2

235

5

473

7

14

George Cook

236

0

234

1

470

1

15

Steven Crawford

220

0

249

8

469

8

16
2013 December 07 – Christmas Shoot
The Annual Petitcodiac Christmas Fun Shoot took place on December 7th, 2013 – having been rescheduled from the week before due to foul weather.
Well, we had a smaller turnout than usual, but everyone was in good spirits and had a good time. For those not able to win a turkey either by craft or luck, they still were in the prize draw and had a hot meal. It was a fun shot, but the competition was very keen with some really good scores posted, especially on the 6-bull target. As a result it was necessary to hold a shoot-off for two of the three competitive targets. Even the good luck target had a couple of close high scores.
The weather co-operated better this time; although the wind did prevail. It was a bit cold, but the shooting hut and the clubhouse offered the warmth of a good wood stove. On behalf of PSC, Thanks to George and Tony for getting the stoves going and to to Tony, Shelly, and John L. for setting the target frames, and Brian and Dan for running targets. As usual, Barb and Shelly brought great sweets, and some chocolate on the range courtesy of Brian; appreciated. Thanks to our two chefs, Bev. and Joanne who served up the delicious ham and scalloped potato dinner. Thanks to Darryl as Range Officer, and to John C. for assisting with the closing ceremonies and prizes.
On behalf of your fellow benchrest shooters at PSC, I (Volker) wish you all a Merry Christmas and Happy New Year!
The shoot consisted of a standard 5-Bull target, a "Fly" target, a "Squares" and a "Good Luck" target. John M. won the 5-Bull target with a score of 100/8X. The "Fly" target was won by Danny G. with 27 points while the "Squares" target was won by Barbara J. with a score of 15. Volker T, who says he would rather be lucky than good, won the . . wait for it . . . Lucky target.
More pictures from the Christmas Shoot…
2013-October-06 Final 22 Benchrest Shoot
Well it was finally here – the Final Shoot of the 22BR Season at Petitcodiac. This is always a big and very enjoyable event with lots of effort by many people to make the day memorable.
Everybody got what they had wanted – some came for the stiff competition and got that; others came for a fun time with friends and shooting colleagues – and got that. Some came for both and guess what – we all got that.
Sunday morning started off pretty cold – my back yard thermometer read 0 C with a layer of frost on the truck. It quickly became a most beautiful fall day in New Brunswick with vivid reds, yellows, oranges and browns flashing in the bright morning sun. The trip to Petitcodiac was full of anticipation.
When we got there, Volker T., the Match Director and scorer was already busy with assigning benches to shooters. Big thanks to Volker T. who worked hard all match and still shot and won it!!
Big Thanks also to John C. who had worked very hard all week to organise the luncheon, the prizes for the draw, the trophies and plaques. Those of us who hadn't qualified and did not let him know we were coming might have caused a little stress by upsetting his well laid plans.
Thanks are also due to Dan G. who served as Range Officer and also changed targets along with Tony L., John L., Gerald D. and Bruce B. Thanks to Darryl K. who served as Range Officer and who made a fire that kept us nice and warm (what was that blue haze that kept creeping over the range just as we were ready to pull the trigger?). Shelly C. provided the wonderful sweets as she does each shoot – how could we shoot without them?
And we can't forget the efforts of the crew who set up the range in the morning – Cecil H., Carl J., George M. and Shelly C.
The whole day turned out to be beautiful with temperatures climbing to 12 or 13 C. Winds were non-existent to only slight – maybe a maximum of 5 km/hr. The winds, when they came up, were a little tricky and the best strategy seemed to be to wait until they had died down. Even so, some of us did lose a point or two, much to our disappointment.
The match began a little after 10:00am with 4 relays of shooters. We completed 25 bulls (1/2 the match) and stopped for lunch. Right after, we completed the other 25 bulls. When the dust had settled, it had proven to be a stiff competition with many shooters shooting at least one clean sheet of 25 bulls (see list below – * indicates a clean sheet).
We returned to the clubhouse for the awards presentations and prize draws. The first awards were presented to Mike H. who had shot the highest single target (250/18X) and the highest match score (500/29X) during the season.
Next the cash awards for the top 5 shooters during today's match. Congratulations on a very fine shoot fellows.
Volker T. * won with a perfect 500/26X
Darryl K.* was second with a perfect 500/15X.
Dan G.* placed third with 499/24X,
Cecil H.* was fourth with 499/23X and
John C was fifth with 498/22X.
Matt McA. * – 498/20X
Shelly C.* – 498/14
Jeff M.* – 497/18X
Martin T. * – 497/11X
Mike H. * – 495/22X
Bruce B. – 495/16X
Barbara J. – 493/16X
Brian P. – 493/15X
Bert deV. – 493/11X
Stephen C. – 492/15X
Carl J. – 492/12X
Gerald D. – 488/13X
John L. – 486/10X
George M. – 485/8X
Don M. – 484/4X
Terry McN. – 478/6X
Tony L. – 435/4X
2013-September-22 Centerfire Benchrest Championship Shoot
2013-September-15 Sharps and Levers Championship Shoot
2013-August-25 Centre Fire Benchrest Shoot
2013-August-18 Sharps and Levers Shoot
2013-July-28 Centerfire Benchrest Shoot
2013-July-27 Sharps and Levers Shoot
2013-June-16 Fathers Day .22lr Benchrest Shoot
2013-June-15 Cowboy Shoot
2013-June-02 .22 Centerfire Benchrest Shoot
2013-May-19 .22 Rimfire Benchrest Shoot
2013-May-11 Sharps and Levers Shoot
2013-Mar-17 50 Yard Bench Shoot
2013-Feb-24 Long Gun Shoot
2012-12-02 Christmas Fun Shoot
2012-11-17 Levers and Sharps
2012-11-03 Levers and Sharps Winners
2012-10-14 Centrefire BR Championship
2012-09-23 Long Gun Shoot
2012-09-16 22 Rimfire Classic Fun Shoot
2012-08-12 – .22 Benchrest Shoots
2012-07-07 Levers and Sharps Winners
2012-June-09 Sharps and Levers Western Shoot
2011 PSC .22 Christmas Shoot
2011 PSC Christmas Meeting and Celebrations
2011 IPSC Shooting Match
2011 Boy Scout Shooting