The Petitcodiac Sportsman's Club is an organization made up of men and women devoted to the great outdoors.
Each month, with the exception for July & August, the club holds a general meeting. Many meetings include a guest speaker in attendance. Past speakers have included the provincial Deer Biologist, the Chief Firearms Officer, authors of books and many other interesting speakers.
Everyone is welcome to attend so come on out and enjoy an atmosphere of cooperation and friendliness and learn more about what one of New Brunswick's finest outdoor gun club has to offer. Check out the PSC Calendar of events for regular club and range updates.
---
IMPORTANT MESSAGE FOR ALL PSC MEMBERS
PLEASE BE ADVISED THAT THE GATE LOCK COMBO WILL CHANGE TO THAT SHOWN ON THE BACK SIDE OF YOUR 2018 MEMBERSHIP CARD AT 8:00 AM FRIDAY, FEBRUARY 23, 2018.
UNTIL THAT TIME YOU MUST USE THE GATE LOCK COMBO SHOWN ON YOUR 2017 MEMBERSHIP CARD.
SHOULD YOU REQUIRE CLARIFICATION OR REQUIRE ANY EXPLANATION WHATSOVER PLEASE SEND AN EMAIL TO PSC info@sportsmanclub.ca
All members must carry their valid membership cards with them at all times – your membership card is your authorization to transport firearms as well your authorization to trespass on the PSC property so be prepared to show it.
---
New 2018 PSC Website Updates
Here are a few items that have been recently updated on the PSC website:
The PSC has published a new, "Sportsman of the Year" page. This page is located under the main "About Us" menu item.
PSC Calendar updates now include the new 2018 Shoot schedules that include the Rifle and Trap Shoot Ranges.
Also, the PSC Calendar 2018 meetings have been posted and those include; Executive Meetings, General Meetings and the February 2019 AGM.
Continue to check back regularly for more PSC updates!
---
March 18, 2018 PSC CF BR Shoot
Well, here we are in March and we are sooo looking forward to spring. I guess we have to wait a little longer as we just received more snow in the last week or so than we had all winter long. Heavy wet stuff that a day later froze to a stiff solid cement when the temperature plunged from 6 or 7 above to 12 below.
During the shoot today, it was cold which was made a little less tolerable by the wind out of the north. On the range the wind was mostly from 6 o'clock although we had frequent gusts across the range from both right and left. The temperature stayed below zero which made the room with the stove in it a favourite huddling spot.
All this was OK – we're from New Brunswick and can handle all this. The sun's glare on the fresh white snow was a little harder for not-so-young eyes and many shooters had problems focusing and managing the mirage.
Despite this, we had a lot of fun and shot not too badly either. Congratulations go to Don M. who broke the 300 barrier for the first time in Petitcodiac with a 300/11X. Way to go Don!! – (he was feeling jinxed as he has shot 299 so many times in the past few years but could never break the 300).
Today, Volker T. was the Match Director and head scorer with Dan G. verifying. The target stands were dug out of the snow and set up by Shelly C. and Tony L. The target changers were Dan G., Shelly C., Cecil H., Bert deV., Brian P. and John McC. Range Officers today were Dan G., Darryl K. and John McC. We were kept warm by the firewood brought by Darryl K. and Cecil H. while we enjoyed Shelly C.'s famous treats.
Thanks to all for making this such an enjoyable shoot.
Pictures and Scorecard from the Shoot:
---
PSC Crests Available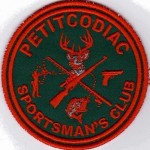 The PSC has obtained the crests as shown – these crests will be available at General Meetings on a first come, first serve basis. The cost of a crest has been established at $5.00 which is only a few cents more than what we have paid for them.
Plan on attending our next General Meeting. Bring a friend. Meetings are held every 3rd Thursday of the month (excluding July & August) at 7:30pm at the club house. If you would like to receive meeting updates, guest speaker notices and other club event information, send us an email to info@sportsmanclub.ca and request to be added to our monthly emails.
---
PSC IPSC Match
See more pictures of previous PSC shooting matches…
---