The Petitcodiac Sportsman's Club is an organization made up of men and women devoted to the great outdoors.
Each month, with the exception for July & August, the club holds a general meeting. Many meetings include a guest speaker in attendance. Past speakers have included the provincial Deer Biologist, the Chief Firearms Officer, authors of books and many other interesting speakers.
Everyone is welcome to attend so come on out and enjoy an atmosphere of cooperation and friendliness and learn more about what one of New Brunswick's finest outdoor gun club has to offer. Check out the PSC Calendar of events for regular club and range updates.
---
New 2018 PSC Website Updates
Here are a few items that have been recently updated on the PSC website:
The PSC has published a new, "Sportsman of the Year" page. This page is located under the main "About Us" menu item.
PSC Calendar updates now include the new 2018 Shoot schedules that include the Rifle and Trap Shoot Ranges.
Also, the PSC Calendar 2018 meetings have been posted and those include; Executive Meetings, General Meetings and the February 2019 AGM.
Continue to check back regularly for more PSC updates!
---
Jan. 21, 2018 PSC Centerfire BR Shoot
It was a nice day to host our match today. With only two relays it went fast. The temperature ranged from -7 to -1 degrees C, but it was sunny and light wind. We were able to rig the shutters to address the glare from the sun on the snow. This made for improved sight on the targets.
The Match Direstor today, was Volker T. who was also the scorer. Range Officers were
Brian P. and Dan G. Pictures by Darryl K. and write-up was send in by Volker T.
The targets were changed by Brian P., Shelly C., Dan G. and Mike A. Shelly C. brought her delicious treats and Dan G. the Timbits. Thanks,everyone, for your help. As you know, shoots don't just happen – they need the input from many to be successful.
Welcome to Mike A. who, at his first BR shoot, did very well indeed!
Pictures and Scorecard from the Shoot:
---
Dec. 17, 2017 – Christmas Shoot
It was a cold day in Petitcodiac with the temperature staying below the freezing mark. The sun was out at times but it was mostly cloudy – this helped us to see the white and black fun targets that were the order of the day. The wind was brutal and kicked our little .22 bullets all over the place plus adding to the cold.
Thank goodness there was roaring fire in the stove – we all huddled there or went to the clubhouse to warm up. One thing about a roaring fire – it produces smoke and it's hard to see through smoke!
The targets were a variety of fun targets – crows on a fence and in the air (tiny and hard to hit), black beans glued on a white sheet of paper and others. We started with a blank piece of paper (the "lucky" target). Shoot 5 shots and see what your score is when a template is applied for scoring. Not good scores but someone was lucky.
A turkey was the prize for each of the targets (Bert deV., John C., Dan G., and Chris S. were the lucky – or skilled – shooters who will knaw on those drumsticks). Those who did not take home the turkey, selected from a table full of draw prizes so everyone went home with a prize. Thanks to John C. for organizing this.
Between targets, we enjoyed a meal of baked beans (thanks Bruce B.), brown bread rolls (thanks Dave C.), hamburg soup (thanks Bev T. and Joanne K.), biscuits (thanks Dorothy McC.), cookies (thanks John Mo.), chocolate chip banana bread (thanks Bruce B.) and our favorite squares (thanks Shelly C.). While shooting we dug into
Barb J.'s cookies and banana bread (thanks Barb J.).
Christmas is about friends and good food – we certainly enjoyed both today. Many thanks to Bev T. and Joanne K. for preparing and serving the Christmas shoot meal.
After the meal we honoured those who shot so well during the Wednesday evening shoots with Shelly C. Tony L. and Tom N. recognized as top shooters. Then came the presentation of prizes for today's shoot and the prize draw.
The match director and organizer for this shoot, as well as so many others during the year, was Volker T. The scoring was done by Volker T. as well as Bev T. and Joanne K. for the lucky targets. Targets were posted by John McC., Bert deV., Darryl K., Dan G., Bruce B., George M. and Brian P. The ROs for this event were Volker T., Dan G., Darryl K., Tony L. and Bruce B. Thanks to all for helping to make this event such an enjoyable one.
Christmas Shoot Pictures

---
PSC Crests Available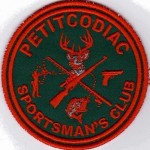 The PSC has obtained the crests as shown – these crests will be available at General Meetings on a first come, first serve basis. The cost of a crest has been established at $5.00 which is only a few cents more than what we have paid for them.
Plan on attending our next General Meeting. Bring a friend. Meetings are held every 3rd Thursday of the month (excluding July & August) at 7:30pm at the club house. If you would like to receive meeting updates, guest speaker notices and other club event information, send us an email to info@sportsmanclub.ca and request to be added to our monthly emails.
---
PSC IPSC Match
See more pictures of previous PSC shooting matches…
---