The Petitcodiac Sportsman's Club is an organization made up of men and women devoted to the great outdoors.
Each month, with the exception for July & August, the club holds a general meeting. Many meetings include a guest speaker in attendance. Past speakers have included the provincial Deer Biologist, the Chief Firearms Officer, authors of books and many other interesting speakers.
Everyone is welcome to attend so come on out and enjoy an atmosphere of cooperation and friendliness and learn more about what one of New Brunswick's finest outdoor gun club has to offer. Check out the PSC Calendar of events for regular club and range updates.
---
PSC Annual Supper & Major Prizes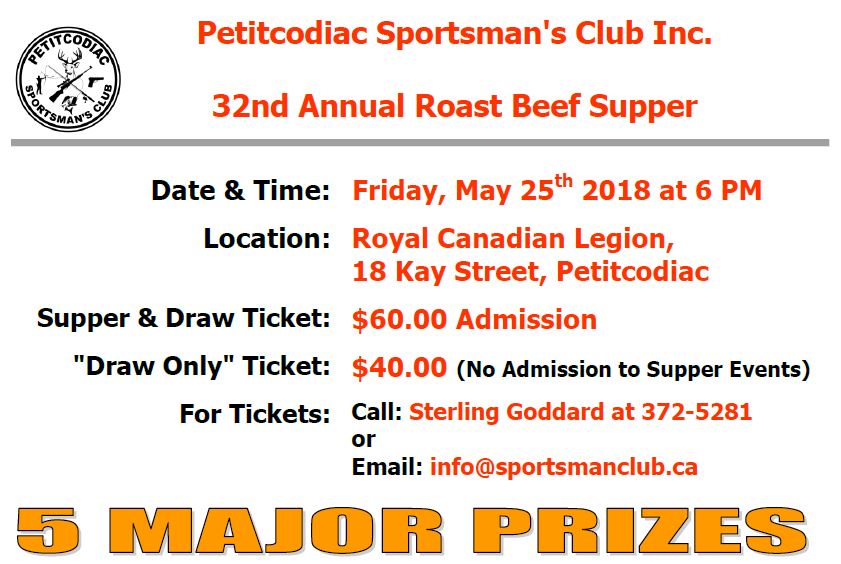 ---
NOTICE – Irishtown Gun Show in Grand-Digue
The Irishtown Gun Show scheduled to be held on May 5 & 6, 2018 has been cancelled.
The replacement Gun Show will be held on May 12 & 13 at the Grand Digue Community Center, Route 530, Civic # 468.
For information and tables, contact Earle at 383-9579.
---
Attention Hunters & Recreational Shooters
INFORMATION SESSION & DISCUSSION
RECENTLY INTRODUCED FEDERAL FIREARMS LEGISLATION BILL C-71
IN–HOUSE INFORMATION SESSION & DISCUSSION
NON MEMBERS WELCOME

THURSDAY EVENING, APRIL 19TH, 2018
STARTS AT 7:30 PM SHARP
PETITCODIAC SPORTSMAN'S CLUBHOUSE
1030 SANATORIUM ROAD

CONTACT RON AT 381-2891 FOR MORE INFO
---
April 15, 2018 PSC 22 BR Shoot
Here we are mid-way through April (one month into spring). This is usually a pretty nice time of year with warm sun and water running everywhere. Many song birds would have returned to New Brunswick by now and we would be thinking of what needs to be done to prepare the garden.
This year is especially nice for those who are not yet ready to let go of snowmobiling, lighting fires in stoves and extending the winter cocooning. It was COLD this morning at about 10C below zero and there was a stiff wind. Winds were gusty and especially for the first relay, all over the place. Scores sure reflect the conditions today. One saving grace was that the sun did come out but it didn't warm up much. In case you thought we were complaining, we were happy to be out together having fun.
Dan G. was the match director and head scorer with John McC. providing the verification. Thanks to Mike C., Guy H., John McC., Chris S. and Bert deV. for changing the targets. John McC., Bruce B. and Bert deV. were the ROs today. The most excellent treats were provided by Barb J. and Dan G. Thanks to everyone for pitching in and also to the big crowd of shooters for coming out.
Let's do it again next week in Minto.
Pictures & Score from the Shoot:
---
New 2018 PSC Website Updates
Here are a few items that have been recently updated on the PSC website:
The PSC has published a new, "Sportsman of the Year" page. This page is located under the main "About Us" menu item.
PSC Calendar updates now include the new 2018 Shoot schedules that include the Rifle and Trap Shoot Ranges.
Also, the PSC Calendar 2018 meetings have been posted and those include; Executive Meetings, General Meetings and the February 2019 AGM.
Continue to check back regularly for more PSC updates!
---
PSC Crests Available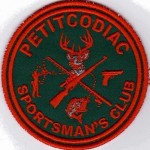 The PSC has obtained the crests as shown – these crests will be available at General Meetings on a first come, first serve basis. The cost of a crest has been established at $5.00 which is only a few cents more than what we have paid for them.
Plan on attending our next General Meeting. Bring a friend. Meetings are held every 3rd Thursday of the month (excluding July & August) at 7:30pm at the club house. If you would like to receive meeting updates, guest speaker notices and other club event information, send us an email to info@sportsmanclub.ca and request to be added to our monthly emails.
---
PSC IPSC Match
See more pictures of previous PSC shooting matches…
---