The Petitcodiac Sportsman's Club is an organization made up of men and women devoted to the great outdoors.
Each month, with the exception for July & August, the club holds a general meeting. Many meetings include a guest speaker in attendance. Past speakers have included the provincial Deer Biologist, the Chief Firearms Officer, authors of books and many other interesting speakers.
Everyone is welcome to attend so come on out and enjoy an atmosphere of cooperation and friendliness and learn more about what one of New Brunswick's finest outdoor gun club has to offer. Check out the PSC Calendar of events for regular club and range updates.
---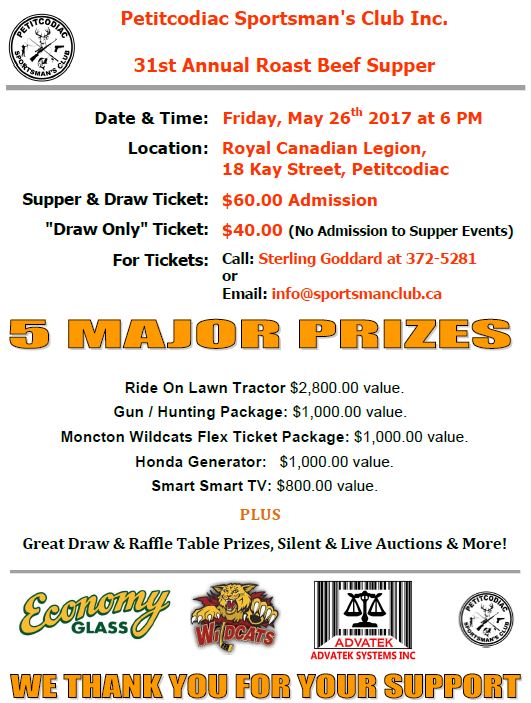 ---
PSC March 19th Centerfire BR Shoot
The weather in New Brunswick, I'm happy to report, is starting to be a bit more enjoyable. On this day-before-the-first-day-of-spring it was just about as nice as it could get in March and still be winter. Lots of snow still on the ground but the temperatures were getting warm – on the plus side of the scale. Also, during the first relay, there was absolutely no wind and the sun was very bright. Shooters on the first relay had some difficulty with glare and mirage.
As the day progressed, the wind did pick up a bit but it was not a strong factor in our shooting. It also clouded over and so the sun didn't remain much of a factor either.
We all had a great time thanks to all the people who lent a hand to make this shoot possible. The match director was Volker T. who also did the scoring. Dan G. was the score verifier. The ROs for the day included Darryl K., John McC., Dan G. and Bert deV. Targets were set and changed by John McC., Chris S., Brian P., Cecil H., Logan G. and Dan G. The irresistible treats were brought by Shelly C. and Dan G.
Thanks to everyone!
March 19, 2017 Centerfire BR Shoot Pictures

---
2016 PSC Crests Available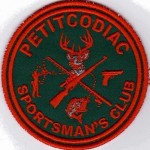 The PSC has obtained the crests as shown – these crests will be available at General Meetings on a first come, first serve basis, commencing with the January 21st meeting. The cost of a crest has been established at $5.00 which is only a few cents more than what we have paid for them.
Plan on attending our next General Meeting. Bring a friend. Meetings are held every 3rd Thursday of the month (excluding July & August) at 7:30pm at the club house. If you would like to receive meeting updates, guest speaker notices and other club event information, send us an email to info@sportsmanclub.ca and request to be added to our monthly emails.
---
IMPORTANT NOTICE TO ALL MEMBERS OF THE PETITCODIAC SPORTSMAN'S CLUB
AMERICAN INCOME LIFE INSURANCE COMPANY (AIL) BENEFIT
MEMBERS OF THE PETITCODIAC SPORTSMAN'S CLUB (PSC) ARE MEMBERS OF THE NB WILDLIFE FEDERATION AND AS SUCH ARE ELIGIBLE FOR AN ACCIDENTAL DEATH AND DISMEMBERMENT BENEFIT OF $4000 PER MEMBER.
ON JULY 16TH, 2015 WE ARE MAILING TO EACH MEMBER OF THE PSC A BENEFICIARY CARD AND AN ADDRESSED AND STAMPED ENVELOPE. PLEASE COMPLETE THE CARD AND DESIGNATE A BENEFICIARY AND MAIL IT AS REQUESTED.
IF YOU FAIL TO DO SO YOU WILL STILL BE ELIGIBLE FOR THE $4000 BENEFIT BUT THE $4000 WILL BE PAID TO YOUR ESTATE AND MAY BE TAXABLE.
THOSE MEMBERS WHO RETURN THE CARD WILL ALSO RECEIVE A FAMILY EYE CARE DISCOUNT CARD FOR YOUR FAMILY AT NO COST THAT PROVIDES DISCOUNTS ON ALL PRESCRIPTION EYEWEAR.
ALSO AT NO COST CHILD SAFE KITS ARE AVAILABLE FOR YOUR CHILDREN OR GRAND-CHILDREN.
IF YOU HAVE ANY QUESTIONS PLEASE CONTACT US;
RON WHITEHEAD
PRESIDENT
PETITCODIAC SPORTSMAN'S CLUB
---
PSC IPSC Match – May 24, 2015
See more pictures of previous PSC shooting matches…
---