The Petitcodiac Sportsman's Club is an organization made up of men and women devoted to the great outdoors.
Each month, with the exception for July & August, the club holds a general meeting. Many meetings include a guest speaker in attendance. Past speakers have included the provincial Deer Biologist, the Chief Firearms Officer, authors of books and many other interesting speakers.
Everyone is welcome to attend so come on out and enjoy an atmosphere of cooperation and friendliness and learn more about what one of New Brunswick's finest outdoor gun club has to offer. Check out the PSC Calendar of events for regular club and range updates.
---
PSC APTA Gun Lottery
Click on poster for lottery details…
---
PSC Aug. 06 Centerfire BR Shoot
The morning started out with ominous weather. Thunderstorms and showers were prevalent throughout the southern part of the province in early hours. But, as the start of the shoot became closer, the storms disappeared, the sky was still overcast, and the rain disappeared.
Winds were light to moderate, but twitchy. Temperatures ran from 19 up to 24 degrees C. Good enough to shoot!
There were no 300 scores shot today, but some came close. Normally, there would have been more shooters on the firing line, but several were not able to make it.
Thanks to all for the tasty treats and helping out with the Range Supervision and target work.
Thanks to Volker T., Match Director, for the results and the pictures.
PSC Centerfire Benchrest Shoot

---
PSC Crests Available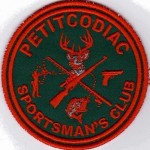 The PSC has obtained the crests as shown – these crests will be available at General Meetings on a first come, first serve basis. The cost of a crest has been established at $5.00 which is only a few cents more than what we have paid for them.
Plan on attending our next General Meeting. Bring a friend. Meetings are held every 3rd Thursday of the month (excluding July & August) at 7:30pm at the club house. If you would like to receive meeting updates, guest speaker notices and other club event information, send us an email to info@sportsmanclub.ca and request to be added to our monthly emails.
---
PSC IPSC Match
See more pictures of previous PSC shooting matches…
---